How often as coaches have we said or thought, "how can this be that hard"? Or, "I don't understand why he can't see that"? I believe one common mistake we make as coaches is we always assume our kids understand what we're teaching, unless they express is some way that there is confusion. I assume most of you reading this blog coach football. We eat, sleep, and breath football. We often times forget that football probably isn't near as important to the kid you're coaching as it is to you. Things aren't as simple to the kids as they are to us. Also, we as coaches don't have to worry about the physical aspect of performance. It is a lot easier to see what is going on from the sidelines or the press box when you're not the one being rushed or blitzed.
I'm going to steal the example used by QB guru Darin Slack, that compares a typical quarterback's understanding to an iceberg. What the quarterback understands is symbolized by the part of the iceberg that is above the water. Now, let's look at what you, the coach, understands. That is symbolized by the entire iceberg, both what is above and below the water. How do we get our quarterbacks to understand the entire picture, see the entire iceberg?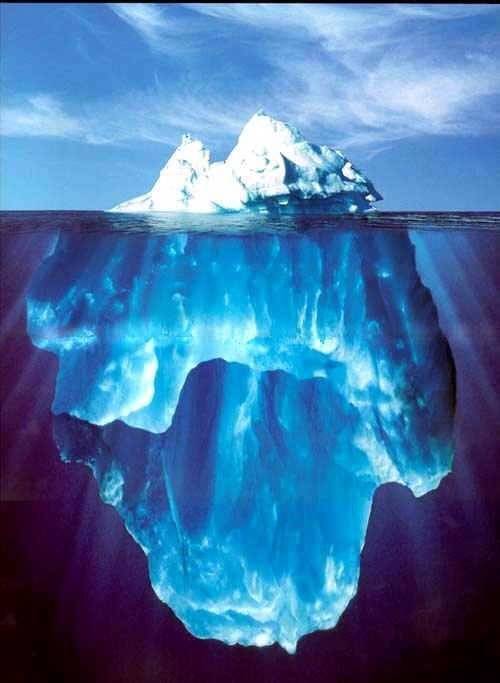 There are a lot of things on the quarterback's plate: receiving the playcall from the sideline, relaying the playcall to the other 10 guys, checking to make sure everyone is aligned properly, checking the front, counting the safeties, checking the corners, looking for potential blitzers, mentally reviewing his technique and read on the forthcoming play, and all of this while keeping an eye on and beating the 25 second clock. That is a checklist of 10 things a QB is responsible for...PRE-SNAP. After the snap, the job is even more difficult as he's trying to drop, go through a progression, and make the proper throw while bullets are flying all around him. Without question, quarterback is the most challenging position on the field. In my opinion, it is the most demanding position in all of sports. All of these things are on our QBs' plate, and that doesn't take into account the physical performance aspect of the position.
Football is a gray game more often than it is a game of black and white. What do I mean by that? Well, let's say you are running a typical curl- flat concept to stretch an OLB. You tell the quarterback, "if the OLB drops throw the flat, if he runs to the flat throw the curl." Here's the problem with that logic; you are assuming there are only two things the OLB can do. What if the OLB hangs in the balance between the curl and the flat? Well coached defenders are very good at slow playing their responsibilities and making a "cloudy" read for the quarterback. Also, that school of thought doesn't consider if a robber technique safety or a deep dropping inside linebacker getting in the curl window. Let's say a robber technique safety jumps the curl and makes an interception. The kid comes over to the sideline and says, "coach, you told me if the OLB jumps the flat to throw the curl." He did what you as a coach told him to do. As coaches, we sometimes are guilty of making this game black and white when it is in fact a very gray game in the eyes of our quarterback.
Quarterbacking is indeed a different animal and a position unlike any other. It only makes sense for quarterbacks to be trained unlike any other position as well. Welcome, the R4 QB Expert System. The R4 system is a product of
The Darin Slack Quarterback
Academy
and Jenks (OK) passing game coordinator Dub Maddox. Coach Maddox describes it as a "powerful system of QB reads, recognition and decision-management. A system that accelerates passing game progressions, defender keys, and disciplined footwork in any offensive scheme." Some people make the mistake of assuming this is an offensive system. That is definitely not the case, but it is a system that can take the offensive system you already have in place to a level you hadn't seen.
Here is a trailer video from Coach Slack's website that provides an overview of what R4 is and how it can help your program achieve the goals that are set:
Brian Blevins, the head coach at Kettering Fairmont High School in Ohio talks about how the R4 has taken his quarterback and passing offense to a whole new level.
Let me say, I am writing this endorsement for the R4 system not because I'm being asked to or because I'm trying to drive business to a friend. I wrote this because I believe in the system and believe it will help your quarterback reach a level of play he's never been to before. You can purchase the 3 DVD set R4 QB Expert System
here
and start training your quarterbacks on their reads and recognition in a new and effective way.
As always, check out
Chief Pigskin.com
for lots of great videos and articles that will help improve your program.